Bitumen is pressure-delivered hot (up to 230°C) and must be stored at a constant high temperature (ranging from 125-190°C depending on the grade and type of product). As a result, spillages from these tanks as a result of overfilling have a high potential for serious injury. There are three main factors that can contribute to the cause of bitumen overfill events and in many cases a spillage can result from a combination of some or all of these:
Ignorance of, or confusion about, tank capacity

Poor safety equipment –suitability, maintenance and calibration

Lack of staff training
It is believed that at least 90% of bitumen accidents can be attributed to the simple problem of drivers and site staff not understanding the 'true' available tank capacity
A Combined Solution
Accurate Level Measurement (TDR)
The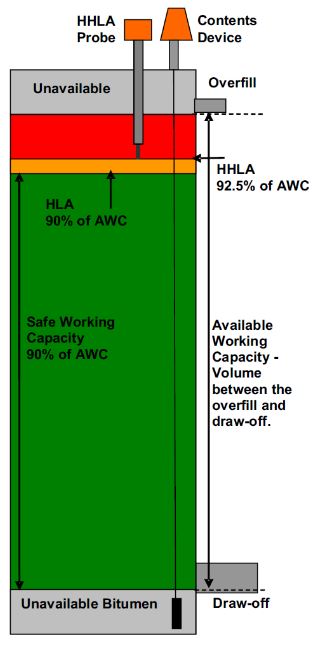 measuring probe for Bitumen tanks will need to withstand exposure to an extremely nasty, high-temperature, sticky product that coats everything it comes into contact with or that is exposed to its carbonising vapours. After extensive fieldtests of ultrasonic, radar, floats and capacitance probes, Hycontrol recommends TDR technology (Time Domain Reflectometry, or 'Radar on a Rope') for bitumen level measurement and the HLA. TDR probes overcome the coating issue inherent in bitumen tanks, is that microwaves travel virtually at the speed of light and pass over any coating on the cable with negligible effect.
Hycontrol have seen examples where a TDR cable has still operated reliably with a carbonised coating along virtually its entire length.
Periodic cleaning is recommended as part of a site maintenance schedule in order to prevent the coating becoming too thick, but this need only be a couple of times a year. Performance is also not affected by changes in pressure, temperature, dielectric constant or viscosity, making TDR the perfect solution for hot bitumen.
An Independent Alarm Switch (RF Admittance)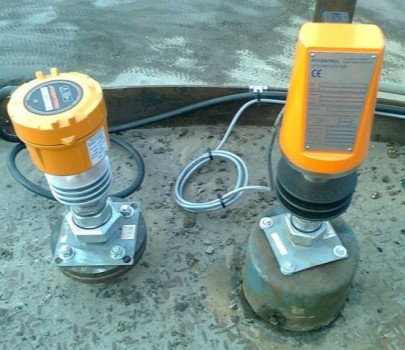 RBA recommendations state the High High Level Alarm switch must be independent of the continuous level monitoring gauge. It will also need to be equally resilient to the build-up of product on the sensing element. Float switches and similar technologies will inevitably fail due to product build up and maintenance is an expensive issue. Hycontrol's extensive site experience has shown that RF Admittance probes best suit the HHLA requirement as product build-up on the sensor does not impede its function.A protective insulation electrode between the conventional main electrode and the grounding sleeve allows the electronics to distinguish between coating and the actual product level.
Testing Vital Components before Each and Every Fill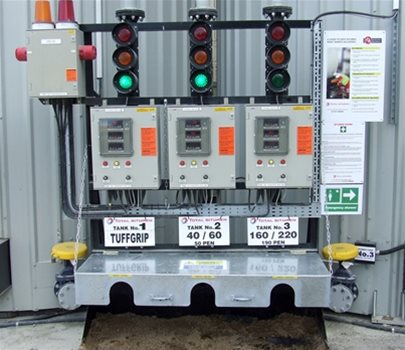 It is best practice (and indeed common sense) for both the HLA and HHLA to be tested before each and every fill. A simple one-button test process takes only a few seconds to check the functionality of critical measuring equipment. Only when all equipment has been tested and verified can the filling process be started.
Clear Displays and Clear Understanding
Hycontrol manufactures a wide range of alarm and test panel solutions with easy-to-see level indicators for single and multi-point sites, all adhering to the RBA's recommendations. These can include displays of contents, ullage and tank temperature and have the option to integrate an independent alarm via a separate power supply to the panel.